ICOLLATE 2021

THE 4th  INTERNATIONAL CONFERENCE ON LINGUISTICS
AND LANGUAGE TEACHING
28 October 2021
Faculty of Languages and Arts
Yogyakarta State University
Background
Since the Covid-19 case was announced in Wuhan, China in March 2019, various aspects of life have changed drastically. Economic, social, cultural, political, religious and educational aspects and even language undergo changes. Various new terms have appeared and are used in various countries, even the words corona and covid-19 for example, have become standard terms that seem to have no equivalents in other languages. Covid-19 can create a change in people's language. In fact, beside Covid-19, various other diseases also have an impact on the use of language, such as aphasia which erodes a person's verbal ability, or stuttering which makes a person unable to speak properly, and so on.

In the field of learning, the Covid-19 pandemic has changed nearly a hundred percent of the models, methods, techniques, media and patterns of learning interactions. Learning that was originally classical in nature bounded by space and time, turns into distance learning that is free from time and space. Face-to-face learning turns into online mode. So, it is not surprising that various virtual learning platforms are used, not only in learning in tertiary institutions, but also in middle schools and even in elementary schools. The use of learning media has changed as well. Learning media that was originally based on audio-visual turned into virtual reality media that could display 4-dimensional objects.
Objectives
The 4th International Conference on Linguistics and Language Teaching (The 4th ICOLLATE) 2021 is designed to facilitate educators, linguists, teaching practitioners, policy makers, researchers and anyone who are interested to discuss a number of current and critical issues to linguistics and language teaching, more specifically to the ones impacted by the Covid-19 outbreak. It will address any relevant issues but not limited to the following questions.
Is there any relationship between certain diseases and language?

How serious is the disease to a person's language skills?

Does the appearance of new words, phrases and sentences related to these various diseases affect the linguistic aspect?

Does the language we use also affect our health?

How is the development of appropriate learning media in the Covid-19 pandemic era?
Call For Papers
THEME :
Opportunities and Challenges of Linguistics Development and Language Teaching and Learning in the Covid-19 Pandemic Era
SUB-THEME :
Language and our health

Lexicology, translation, and semantics (in the covid-19 pandemic era)

Language teaching and learning (in the covid-19 pandemic era)

Media and Information Technology in teaching and learning (in the covid-19 pandemic era)

Language and social distancing

Cultural changes in the covid-19 era
ABSTRACT SUBMISSION
In order to present at the conference, your abstract must first pass a double blind peer review. Upon payment of registration fees, your presentation will be confirmed. Learn more about conference streams.

Submit your abstract online via 

http://icollate.uny.ac.id


HOW TO SUBMIT
Register with our online submission system.

Create your account. Your email address will be used as your username and you will be asked to submit a password.

Submit your abstract of 100- 200 words.

Your abstract will normally be reviewed within two weeks after undergoing a blind peer review. 

If your abstract is accepted you will be invited to register for the conference. Upon payment of the registration fee, you will be sent a confirmation email receipt.

Full paper should be between 6 - 8 pages
•  All margin 2.5 cm (A4)
PUBLICATION
 All full papers will go through a blind review process.

All accepted papers will be published in e-ISBN proceedings.

Selected papers will be recommended to be published in UNY's Sinta 1/Scopus-indexed, Sinta 2, or Sinta 3 journals (with APC directly paid to the journals) and therefore should adhere to their author guidelines.

Submit your full papers  online via

 http://icollate.uny.ac.id
Speakers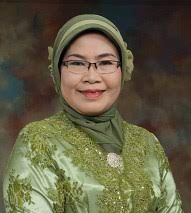 Prof. Suwarsih Madya, Ph.D.
Faculty of Languages and Arts, Yogyakarta State University
Theme: Instructional Methods and Techniques for Language Learning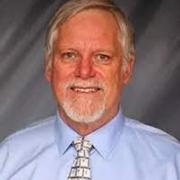 Assoc. Prof. Leigh E. Zeitz, Ph.D.
Coordinator of Instructional Technology Division
Department of Curriculum and Instruction
University of Northern Iowa
Theme: Secrets to Effective Use of Instructional Media to Engage Students in Online Learning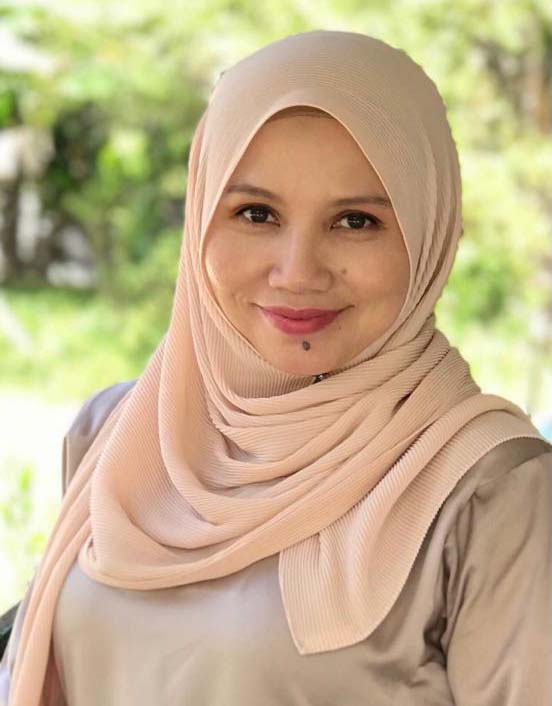 Siti Noor Fazelah Mohd Noor, Ph.D.
Centre for Language Studies, UTHM, Malaysia
Theme: Linguistics and Language Teaching in the Pandemic Era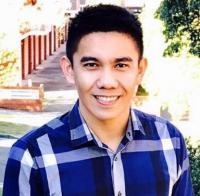 Dr. Dennis Alonzo
School of Education, UNSW-Sydney, Australia
Theme: The Role of Policy, Context, and Language in Assessment.
DATE AND VENUE
Date:
28 OCtober 2021

Venue: Zoom UNY (Online)
Registration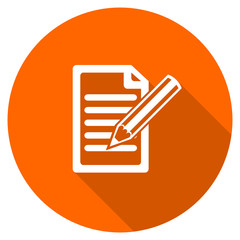 Registration fees :
| | |
| --- | --- |
|  Public participant/presenter |  IDR 200.000,00 |
|  Student participant/presenter |  IDR 100.000,00 |
*Additional fee for publication (Proceeding and Journal): IDR 1.800.000,00
Mode of Payment 
:
I

nternational/local participants should use electronic transfer to:
| | |
| --- | --- |
| Account Name | Ibu N. Nastiti Utami |
| Bank       | BNI |
| Branch    | Cabang UGM |
| Account Number  | 0339563254 |
| Swift Code | BNINIDJA |
As soon as payment is made, please mail the copy of the receipt to icollate@uny.ac.id
---
SIT-IN PARTICIPANTS (PARTICIPANT NON PRESENTER) - PROCEDURE
---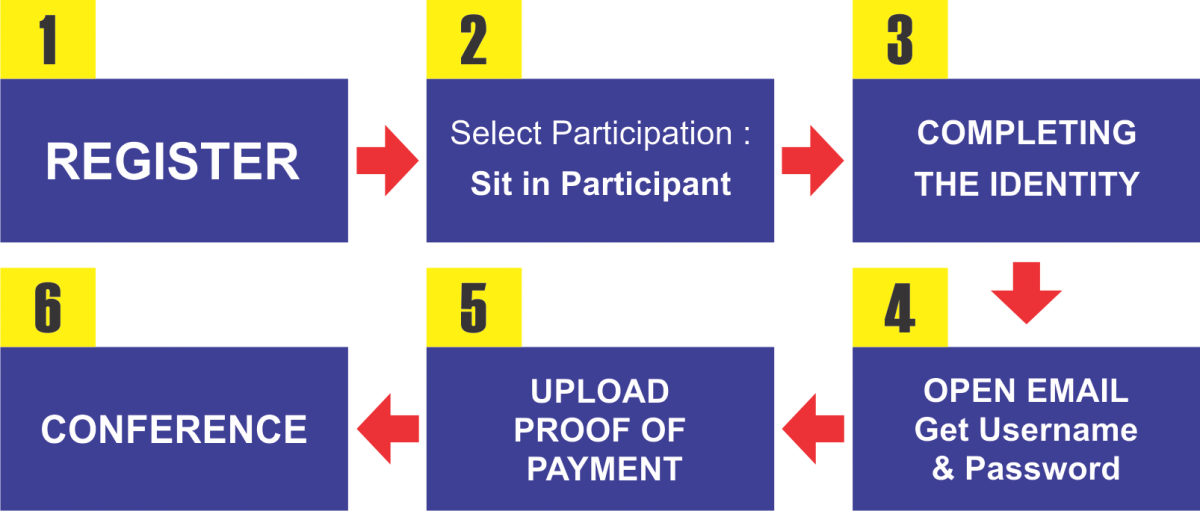 ---
REGISTRATION PROCEDURE FOR PRESENTER / PUBLICATION
---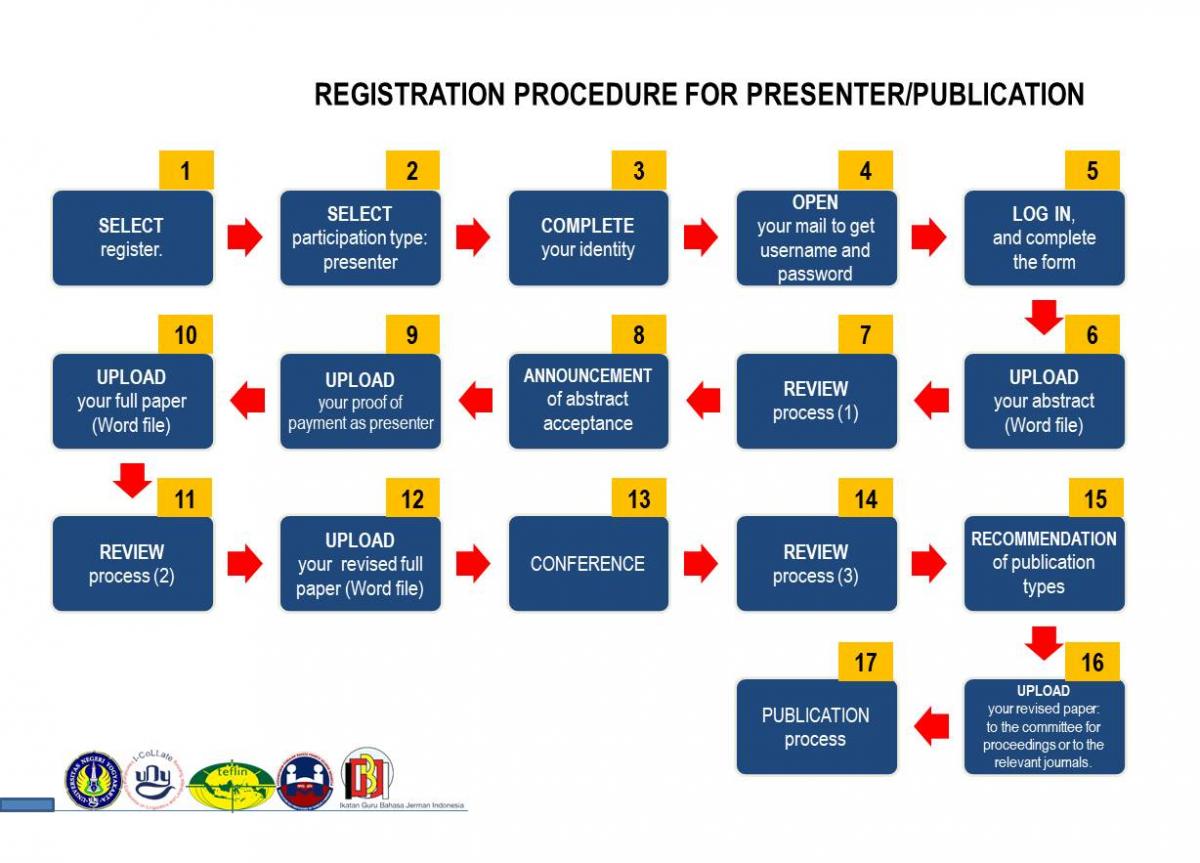 DOWNLOAD
Post date: 

Thursday, February 3, 2022 - 13:08

Post date: 

Tuesday, January 25, 2022 - 03:34

Post date: 

Tuesday, January 25, 2022 - 03:24

Post date: 

Tuesday, January 25, 2022 - 03:03

Post date: 

Tuesday, January 25, 2022 - 02:44

Post date: 

Saturday, August 14, 2021 - 08:27

Dear Mr./Ms. .............................

 

Congratulation!

We are happy to inform you that your abstract has been accepted to be presented at the parallel session of the 4th International Conference of Linguistics and Language Teaching (I-collate). The conference is held on the 28th October 2021 virtually using zoom. In this connection, please be well-informed to the following points.

Please send us your full paper and PPT slides by the 30th September 2021 via our website at http://icollate.uny.ac.id/ using your conference account. Template of the paper can be downloaded from http://icollate.uny.ac.id/download
The deadline for full paper submission is on the 30th September 2021. Paper submitted by this date will be published in the I-Collate 2021 e-proceedings (with ISBN). Selected papers will be recommended to be published in UNY's Sinta 1/ Scopus-Indexed, Sinta 2, or Sinta 3 journals (with APC directly paid to the journals) and therefore should adhere to their author guidelines.
The deadline of conference registration payment is on the 10th October 2021. Registration fee is IDR 200.000, 00 (for public presenter) and IDR 100.000,00 (for student presenter). Payment is made through electronic transfer to:

Account name           : Ibu N. Nastiti Utami Bank                          : BNI Branch                      : Cabang UGM Account Number       : 0339563254 Swift Code                : BNINIDJA Please email the copy of the receipt to icollate@uny.ac.id

 

Should you have queries on your presentation and the conference, do not hesitate to contact us through email at icollate@uny.ac.id or by phone at +62 856 4321 2880 (Desy), +62 858 2010 3395 (Avi), or +62 812 2736 149 (Yayuk).

 

Finally, we would like to extend our appreciation for your interest in participating the conference. Congratulation and we look forward to seeing you in the conference.

 

All the best wishes,

 

The Organizing Committee Chair,

 
CONTACT PERSONS
 SECRETARIAT :
               Kantor Humas dan Kerja sama , Fakultas Bahasa dan Seni
               Gedung Moh. Yamin lantai 2, Universitas Negeri Yogyakarta
               Kampus Karangmalang, Jl. Colombo No. 1 Yogyakarta 55281 INDONESIA
               Telp (+62 274) 550843, psw (1523), Fax (+62274 ) 548207
  Contact persons :
               Desy    : +62 856-4321-2880                
               Avi       : +62 85820103395 
               Yayuk  : +62 812-2736-149